NY Metro Radio A.I.R. Awards
Thursday, January 20, 2000



New York`s radio industry got together on Thursday, January 20th, to recognize its top achievers and to raise money for local chapters of the March of Dimes. The 3rd Annual Achievement in Radio (A.I.R.) Awards were presented at a luncheon and ceremony attended by over 300 radio professionals at the Roosevelt Hotel, 45th Street & Madison Avenue.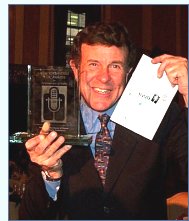 Finalists in 26 categories, covering the full spectrum of radio talent, production, and programming, were chosen from the more than 300 entries submitted by station and agency professionals in the New York area. Radio pros in Los Angeles, Chicago, and Atlanta were called upon to judge the finalists and select the winners, who are listed below. The highlight of the program was the awarding of a "Lifetime Achievement Award" to Bruce "Cousin Brucie" Morrow (right), who recently celebrated his 40th Anniversary in New York radio. Following the showing of a video recap of Cousin Brucie`s long career as a Top 40/Oldies DJ and activist in children`s charities, WCBS-FM VP/General Manager Maire Mason and Program Director Joe McCoy presented the award to Morrow. Expressing his life-long love for radio, Cousin Brucie thanked the industry, his wife and family, and radio fans, and reassured the crowd that he intends to remain on the air for a long time to come.

The assemblage of many long-time radio professionals known for their work in a wide variety of music, news, talk, and sports formats appeared to have a salutary effect on the newer members of the industry, who, like Elvis Duran of Z-100 (WHTZ, 100.3 FM), spoke about the influence of the radio veterans and the New York radio traditions that each new generation carries on.

The A.I.R. Awards were initiated by the March of Dimes in 1987 in Washington, D.C., and are now held in eighteen radio markets across the country. Funds raised through the awards go towards the March of Dimes` community service, advocacy, research, and education programs designed to prevent birth defects and infant mortality.

Here are the 1999 A.I.R. Awards winners:


Best Morning Show:
WHTZ (100.3 FM) - Elvis Duran and the Z-Morning Zoo (right; Elvis is at far right)

Best Midday Show:
WHTZ (100.3 FM) - Lisa Taylor (photo below)

Best Afternoon Show:
WNEW-FM (102.7) - Opie & Anthony


Best Evening Show:
WTJM (105.1 FM) - Beth Bacall (photo below)

Best Overnight Show:
WPLJ (95.5 FM) - Dave Stewart

Best Weekend Show:
WHTZ (100.3 FM) - Z100 Pajama Party with Sharon Stevens and Danielle Monaro

Best Talk Show Host:
WABC (770 AM) - Sean Hannity


Best Syndicated Show Originating from NYC:
WBGO (88.3 FM) - JazzSet with Branford Marsalis

Best Production/Creative Director:
WXRK (92.3 FM) - Brian Kelsey

Best Station Promo:
WKTU (103.5 FM) - KTU Theater: The Backstreet Boys

Best On-Air Audience Promotion/Contest:
WAXQ (104.3 FM) - Boss Around the World


Best Station Sponsored Event:
WAXQ (104.3 FM) - Bruce Boardwalk

Best Special One-Time Programming Feature:
WPLJ (95.5 FM) - Guess Who`s In It And Win It

Best Radio Advertising Campaign by an Agency:
Cliff Freeman and Partners - Massage, Poem, String: Arthur Bijur, Steve Doppelt and Jason Gaboriau


Best Commercial Spot by an Agency:
Cliff Freeman and Partners - Poem: Arthur Bijur, Steve Doppelt and Jason Gaboriau

Best Commercial Spot by a Radio Station:
WPLJ (95.5 FM) - Nabisco Mallomars: Scott Shannon, Todd Pettengill, Joey Kramer and Phil Micari

Best Public Affairs Program or Feature:
WBGO (88.3 FM) - Rosa Parks Visit - Doug Doyle (photo below)


Best Sports Reporter:
Shadow Broadcast Services - Doug Thompson

Best Sports Play-by-Play Team:
WFAN (660 AM) New York Jets Football - Howard David and Dave Jennings

Best Traffic Reporter:
WCBS (880 AM) - Tom Kaminski

Best Interview:
WFAN (660 AM) - Mike & the Mad Dog with Baseball Hall of Famer Joe Morgan

Best News Presentation:
WINS (1010 AM)


Best News Series:
WINS (1010 AM) - John Montone`s New York

Best Spot News Team Coverage:
WCBS (880 AM) - The Tragedy of the Kennedys

Best Reporter:
WBBR (1130 AM) - Allyson Slater

Best Newscaster:
WINS (1010 AM) - James Faherty






All photos this page © 2000 New York Radio Guide


Return to Archives Index