The Streaming World Convenes in NYC
Monday, June 12, 2000





"Streaming Media East 2000", the world`s largest conference and exposition devoted to streaming audio and video, opened today at the New York Hilton (6th Avenue & 53rd Street). With over 15,000 attendees and more than 125 exhibitors, the Expo demonstrated the continuing explosive growth for streaming media and the many technological innovations being introduced to create new opportunities for the streaming media sector.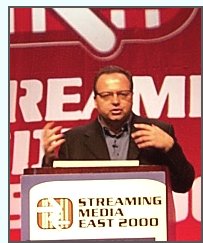 Rob Glaser, CEO of RealNetworks (right), gave the lead keynote address, reviewing five years of growth for RealNetworks and the Real Media streaming audio and video formats and announcing a number of new projects. Introduced in April, 1995, the Real Audio format now has over 125 million users worldwide and is used on 85% of streaming media enabled websites. Glaser observed that broadband access to the Internet is becoming prevalent enough to be attracting a wide variety of broadband content providers, a trend which is accelerating. With satellite delivery of streaming content and international radio streaming, even more possibilities are arising. More than 200,000 new users utilize RealNetworks products every day.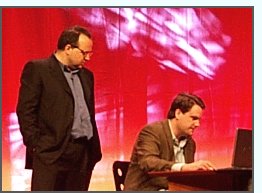 Glaser announced a number of new products. RealSystem 8, which is in Beta stage, delivers significantly improved video streaming, supports over 40 data types, including Mp3 and Flash 4, and offers enhanced security. The just-released "Real Entertainment Center" is a suite of products which includes RealPlayer, RealJukebox, RealDownload, and a host of features designed to integrate users` audio and video activities. Its "Real.com Radio Tuner" allows users to choose among more than 2,500 streaming Internet radio stations. Glaser demonstrated a "wrist music player" prototype, which uses a postage-stamp sized digital memory device and will be available in the Fall. In a surprise move, Glaser announced a deal with Apple in which RealNetworks products will support Apple`s QuickTime streaming technology. Apple`s CEO, Steve Jobs, appeared live on screen via a video hookup from the West Coast.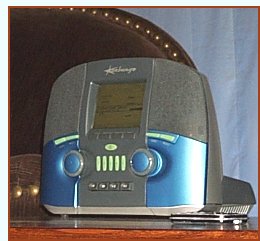 One of the new Internet appliances on display was the Kerbango Internet Radio (right). This device is a stand-alone web radio receiver; it plugs directly into a phone or network connection and tunes in to streaming web radio stations without the use of a computer. The Kerbango web radio includes an integrated RealPlayer and can be tuned like any other radio - except for the fact that it can pick up thousands of stations. It is expected to be available this summer.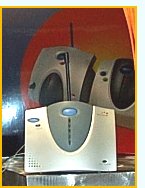 The "Kima", an appliance developed by akoo.com, takes a different approach to delivering web radio. It consists of two units; a base unit that plugs in to a computer`s sound card, and a receiving unit (shown left), which picks up the signal from the base unit from up to 1000 feet away and retransmits it to any portable radio or home stereo receiver. The Kima can transmit streaming audio or music found on the akoo.com directory or any other audio source on the Internet. It will be available in July and will be priced at $149; a remote unit will be added by the end of the year.

Note: Streaming Media East ran through Wednesday, June 14th, 2000, and will return to New York City in December, 2001.

Return to Archives Index